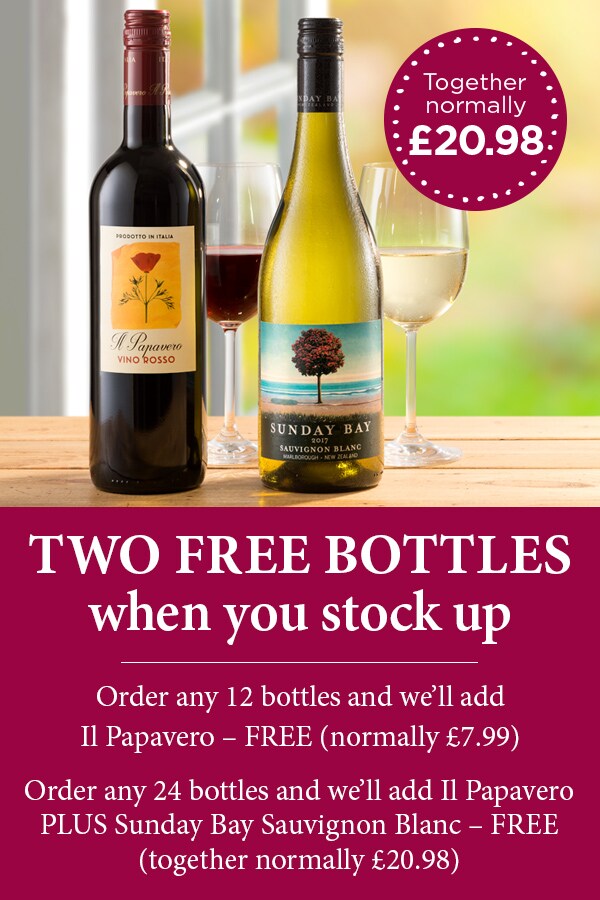 Offer ends 22nd July 2018. Excludes introductory offers or wine plans and is subject to limited stock. No alternative will be offered.

Terre Siciliane IGT
As inviting as a Sicilian summer by the sea, this mouthwatering Grillo is packed with Italian charm

Italy

Grillo
Low Stock - 100 bottles left
£6.99 a bottle
SAVE £1.50 (Was £8.49 a bottle)
Chateauneuf-du-Pape AOC
Richly spiced and complex Châteauneuf from the remarkable, Parker rated winemaker Jean-Marc Diffonty

France

Grenache Based Blend
£16.99 a bottle
SAVE £2.00 (Was £18.99 a bottle)

Roero Arneis DOCG
Discover one of Italy's most fashionable and characterful grapes in this aromatic Piedmontese white

Italy

Arneis
£10.49 a bottle
SAVE £2.00 (Was £12.49 a bottle)

Vino Rosado
Vibrant, red berry scented Spanish rosado for lazy summer afternoons, classic tapas or even fiestas!

Spain

Garnacha
£6.99 a bottle
SAVE £1.50 (Was £8.49 a bottle)

Columbia Valley
Deliciously vibrant and fresh, off-dry Riesling from Washington State and a top-rated winemaker

USA

Riesling
£11.49 a bottle
SAVE £3.00 (Was £14.49 a bottle)
San Juan
France and Australia make great Syrah, but guess what? Argentina does too! Try this sensational red!

Argentina

Syrah
£9.99 a bottle
SAVE £2.00 (Was £11.99 a bottle)

Coteaux de Béziers IGP
Pure Mediterranean sunshine fruit in this luscious, blackberry scented, southern French red

France

Red Blend
£8.29 a bottle
SAVE £2.20 (Was £10.49 a bottle)
Denizli

Turkey

Red Blend
Low Stock - 97 bottles left
£18.99 a bottle
SAVE £1.00 (Was £19.99 a bottle)