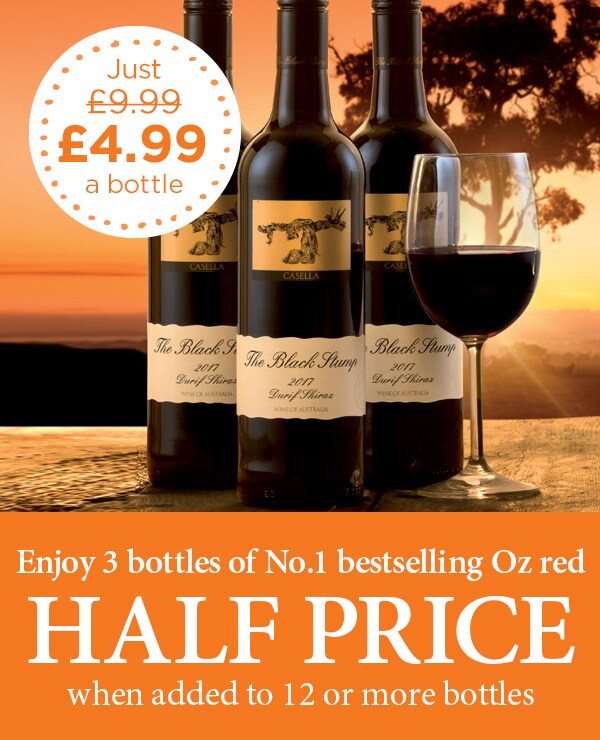 Offer ends 26th September 2018. Excludes introductory offers or wine plans and is subject to limited stock. No alternative will be offered.

Castilla y Leon VdT
Spain makes dazzling white wine, too! Try this one made with Sauvignon Blanc and vivacious Verdejo

Spain

White Blend
£7.99 a bottle
SAVE £2.00 (Was £9.99 a bottle)

Marlborough
New Zealand's Marlborough isn't just about Sauvignon and this silky, berry fruit Pinot proves it

New Zealand

Pinot Noir
£10.99 a bottle
SAVE £3.00 (Was £13.99 a bottle)
Mendoza
Magnificent, 94 point Cabernet Franc Reserve from a top Bordeaux born winemaker in Argentina

Argentina

Cabernet Franc
£12.49 a bottle
SAVE £3.50 (Was £15.99 a bottle)

Niederösterreich
Austria's prized Grüner Veltliner – combines a Sauvignon-like freshness with a twist of spice

Austria

Grüner Veltliner
Available from 5 October, 2018
(Add to Basket if you're happy to wait)
£9.89 a bottle
SAVE £1.10 (Was £10.99 a bottle)

Dealu Mare
Delicious, berry fresh rosé full of cherry and strawberry aromas. What's not to love!

Romania

Pinot Noir
£6.49 a bottle
SAVE £2.00 (Was £8.49 a bottle)
Codru
Brilliant, stony fresh Sauvignon from cool climate Moldova, bursting with elegant citrus fruit

Moldova

Sauvignon Blanc
£7.49 a bottle
SAVE £2.00 (Was £9.49 a bottle)

Coonawarra
Seriously good Merlot from world renowned Coonawarra and Australia's oldest winemaking family

Australia

Merlot
£8.99 a bottle
SAVE £3.00 (Was £11.99 a bottle)

Vinho Regional de Lisboa
Ripe berry fruit and citrusy zip in this delightful pink from a highly awarded family estate

Portugal

Castelão-based blend
£7.99 a bottle
SAVE £1.00 (Was £8.99 a bottle)

Marlborough
Luscious, vibrant, spicy Gewurztraminer from the former Cloudy Bay head winemaker. Beautiful balance

New Zealand

Gewurztraminer
Low Stock - 32 bottles left
£12.99 a bottle
SAVE £3.00 (Was £15.99 a bottle)
Marlborough
A Gold and many top scores underline the fabulous quality of this fine, barrel-fermented Chardonnay

New Zealand

Chardonnay
£15.99 a bottle
SAVE £2.00 (Was £17.99 a bottle)