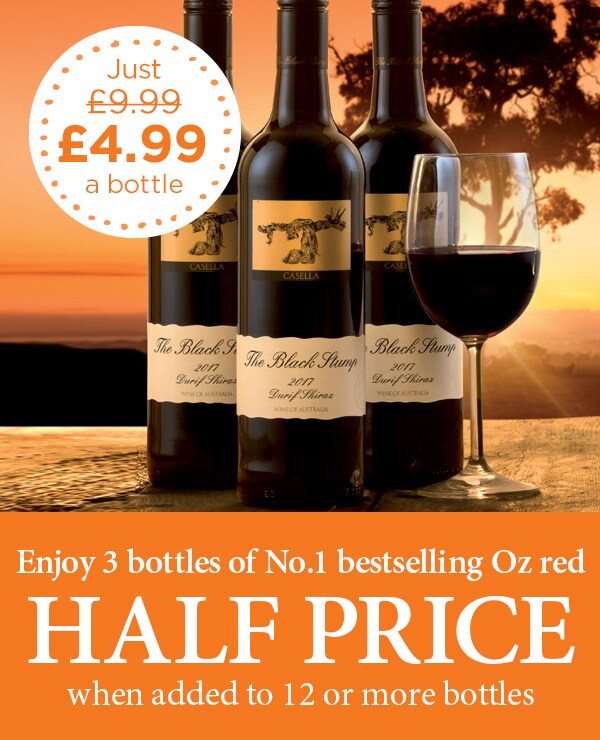 Offer ends 26th September 2018. Excludes introductory offers or wine plans and is subject to limited stock. No alternative will be offered.

Veronese IGT
Dark cherry and mocha red, topped up with a dash of Amarone from Italy's 2016 Winery of the Year

Italy

Corvina-based blend
£7.99 a bottle
SAVE £2.00 (Was £9.99 a bottle)
Mendoza
Magnificent, 94 point Cabernet Franc Reserve from a top Bordeaux born winemaker in Argentina

Argentina

Cabernet Franc
£12.49 a bottle
SAVE £3.50 (Was £15.99 a bottle)
McLaren Vale
McLaren Vale red from a winery with 15 Trophies to its name, most recently Best Australian Red 2016

Australia

Shiraz Based Blend
£10.99 a bottle
SAVE £2.00 (Was £12.99 a bottle)
Pays d'Oc IGP
Gold winning, estate grown Cabernet Merlot from very close to the renowned Mas de Daumas Gassac

France

Merlot Based Blend
£8.59 a bottle
SAVE £3.40 (Was £11.99 a bottle)

Coonawarra
Seriously good Merlot from world renowned Coonawarra and Australia's oldest winemaking family

Australia

Merlot
£8.99 a bottle
SAVE £3.00 (Was £11.99 a bottle)
Brunello di Montalcino DOCG
Superb 93 point Brunello from a great vintage and top producer. Will age very well if you can resist

Italy

Sangiovese
£27.00 a bottle
SAVE £5.00 (Was £32.00 a bottle)

Terre Siciliane IGT
Romantic red blended with cherry flavoured Nero d'Avola grapes, steeped in fiery Sicilian character!

Italy

Red Blend
£8.99 a bottle
SAVE £1.00 (Was £9.99 a bottle)
Minervois AOP
Rich, Gold-medal Minervois from a meticulously run estate. Herbal berry fruit and liquorice length

France

Syrah Based Blend
£11.69 a bottle
SAVE £1.30 (Was £12.99 a bottle)

Amarone della Valpolicella DOCG
Secret deal, top vintage Amarone bargain from "one of the 15 icons of Italian wine"

Italy

Red Blend
£30.00 a bottle
SAVE £20.00 (Was £50.00 a bottle)
BUY A CASE - SAVE £240.00

Barolo DOCG
Fully mature Barolo Riserva from an exceptional vintage, now showing superb savoury fruit complexity

Italy

Nebbiolo
Low Stock - 81 bottles left
£30.00 a bottle
SAVE £10.00 (Was £40.00 a bottle)
BUY A CASE - SAVE £120.00