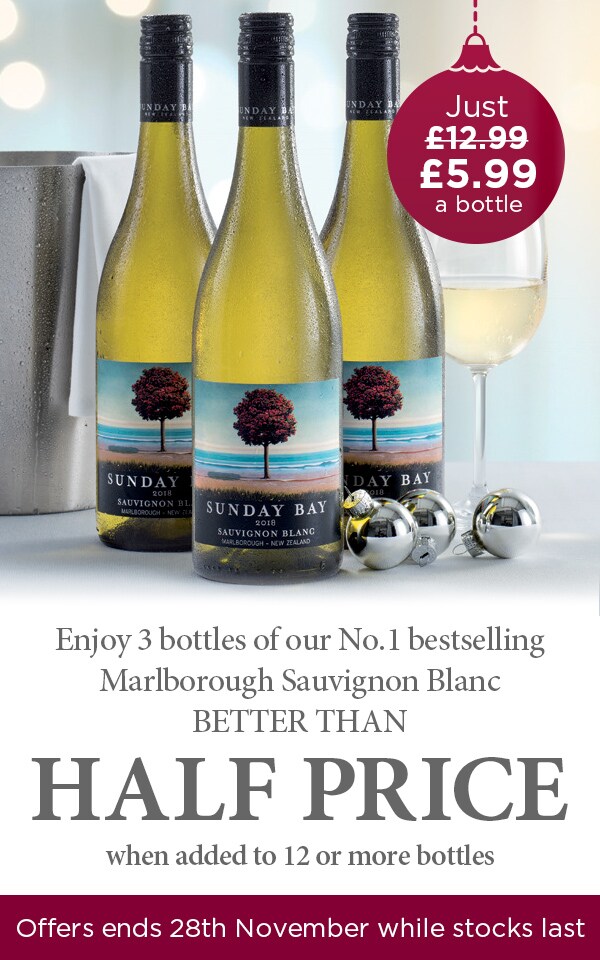 Offer ends 28th November 2018. Excludes introductory offers or wine plans and is subject to limited stock. No alternative will be offered. Offer limited to 3 bottles only per order.
Champagne
Triple Gold for this gloriously creamy, artisan Champagne from the fifth generation Fourrier family

France

Pinot Noir
£17.99 a bottle
SAVE £18.00 (Was £35.99 a bottle)
BUY A CASE - SAVE up to £108.00
Sussex
Dazzling, home grown sparkler to rival fine Champagne from England's Trophy winning Roberts family

Great Britain

Chardonnay-based blend
£19.99 a bottle
SAVE £5.00 (Was £24.99 a bottle)
Prosecco DOC
Celebrate anytime with this double-Gold, estate-grown, gentle fizz from Italy's Prosecco region

Italy

Prosecco (Glera)
£9.99 a bottle
SAVE £2.00 (Was £11.99 a bottle)
Rias Baixas DO
Star white grape Rías Baixas displaying its superb ageing potential. Rich, rounded and citrusy fresh

Spain

Albariño
£9.74 a bottle
SAVE £3.25 (Was £12.99 a bottle)
Bordeaux AOC
Rich, smooth claret with luscious, plummy Merlot charm. Great winemaking from the Le Chai team

France

Merlot
£9.99 a bottle
SAVE £3.00 (Was £12.99 a bottle)
Marlborough
One of the finest Sauvignons of New Zealand and a regular Gold medal winner, from Jane Hunter CBE!

New Zealand

Sauvignon Blanc
£13.49 a bottle
SAVE £2.50 (Was £15.99 a bottle)
Heathcote
From Victoria's star Heathcote area and the iconic Tyrrell's estate, this Shiraz has six top awards

Australia

Shiraz
£12.74 a bottle
SAVE £4.25 (Was £16.99 a bottle)
Côtes de Provence AOP
Exquisite, pale-hued, herbal-scented Provence rosé, using the very pick of the 2017 grapes

France

Grenache-based blend
£11.24 a bottle
SAVE £3.75 (Was £14.99 a bottle)
Vinho Regional Alentejano
Sumptuous, oak-matured, double-Gold delight, handcrafted using native Portuguese grapes

Portugal

Red Blend
£12.99 a bottle
SAVE £2.00 (Was £14.99 a bottle)
Rias Baixas DO
Thrillingly zingy, mineral fresh, 91-point white from northwest Spain and exhilarating Albariño

Spain

Albariño
£12.49 a bottle
SAVE £1.50 (Was £13.99 a bottle)