Wine
Education
Laithwaite's provides WSET courses 1, 2, and 3.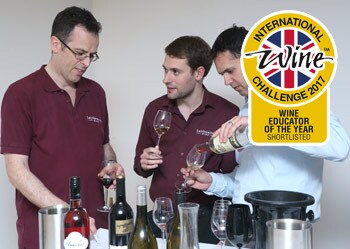 WSET Level 1 Award in Wines

Obtain an internationally recognised wine qualification in just 1 day!
This course provides a general introduction to wine, including how to recognise wine styles, key grape varieties and classic wines, guidance on how match food with wine, storage and service of wine, and recording of tasting notes.
Test your wine knowledge with this Level 1 (Foundation) quiz
> Level 1 (Foundation) Quiz One
Next available course dates:
Theale:

July 1st 2017

Gloucester:

to be confirmed. Please see contact details below.
"Just a note to thank you so much for a fascinating, entertaining, informative and fun day - with a continual assault on the senses of delicious flavours and aromas! We all enjoyed ourselves very much indeed. An absolutely excellent day, perfectly balanced and perfectly managed. Bravo" - Chris & Alison Hall
WSET Level 2 Award in Wines & Spirits

(£245)
This course introduces you to a spectrum of wines from across the world - some familiar, and some less so. Spirits are also addressed, albeit to a lesser extent.
On completion of this course you will be able to:
Account for the differences in the main styles of wines.
Describe the main international grape varieties.
Decipher the style of a wine through an understanding of different label terms.
Apply basic principles of food and wine matching.
Provide advice on service and storage of wines (this element of the course is particularly useful for those within the restaurant business).
IN PICTURES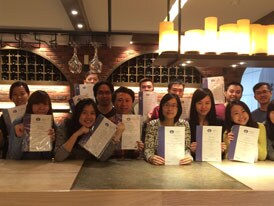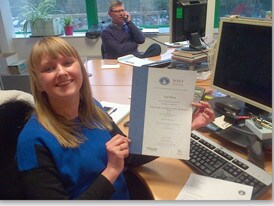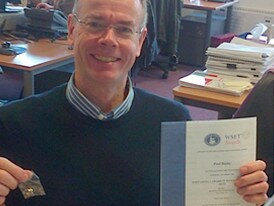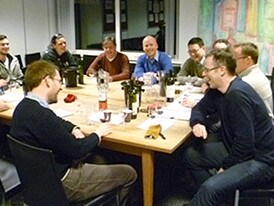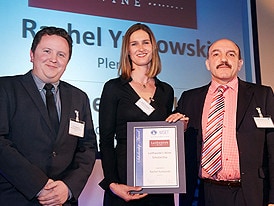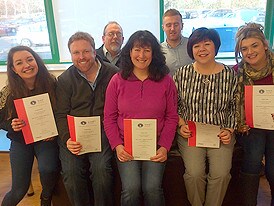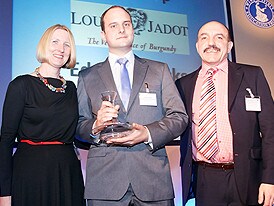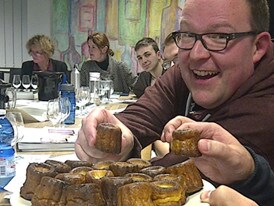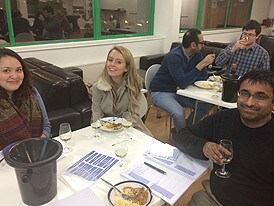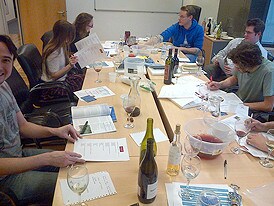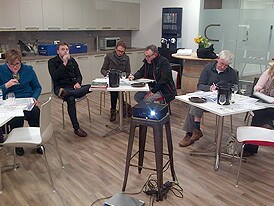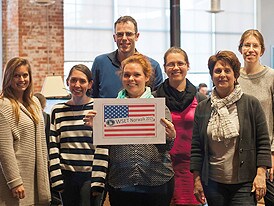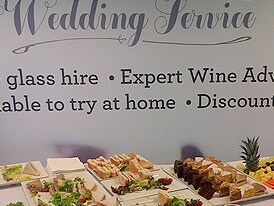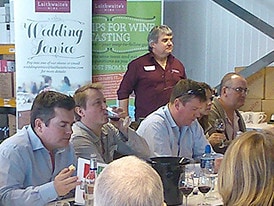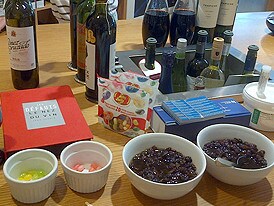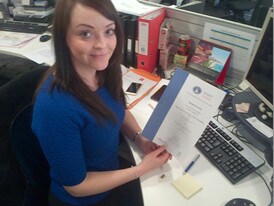 There will typically be 7 samples per session, allowing you to taste a diverse and broad range of wines.
This course runs across 8 weeks, with an additional week or two for revision before taking a final exam comprising 50 multiple choice questions. (These additional weeks are flexible).
Test your wine knowledge with one of these Level 2 (Intermediate) quizzes
> Level 2 (Intermediate) Quiz One
> Level 2 (Intermediate) Quiz Two
Next available course dates:
"While I found the course material extremely helpful, the classroom education provided by Russell and Len was outstanding. By the end of our training, I felt completely prepared for the WSET test, and am happy to state I passed with distinction. I am currently studying for the Advanced Level test, and am looking forward to achieving the next level's certification." - Kyle Ferari, American Customer Care, Pennsylvania
WSET Level 3 Award in Wines

(£395)
For those looking for a challenge, this adds much greater depth of knowledge to those elements covered at the Intermediate level.
84 hours of study time (this includes the tutored session times) is recommended for this course. As with the Intermediate level
you will be trying a range of wines but over a more detailed and expansive range. This course runs over 4 months with typically an extra few weeks of revision before a final exam. The exam comprises a written answer test, a multiple choice paper, and a practical tasting with a written assessment of 2 wines.
> Test your wine knowledge with this Level 3 (Advanced) level quiz
Next available course dates:
"Attending the WSET Advanced level course at Laithwaites Wine has been an amazing experience. The instructors were incredibly knowledgeable and conveyed a wealth of information in a fun and relaxed environment. It was also a wonderful opportunity to taste a vast array of the best wines that Laithwaites Wine has to offer. Highly recommended!" - Jennifer Bengtsson, Reading
"Having not been in a classroom for 20 years or so it was really refreshing to be gaining knowledge in a relaxed and enjoyable environment which you created. We never expected Level 3 to live up to the previous year, but it did, and the couple of hours we spent in the classroom were again one of the highlights of our week." - Mark and Clare Hamilton, Gloucestershire
To view the Specifications for each of the qualifications above click on the link below
http://www.wsetglobal.com/qualifications/default.asp
---
For more information and venue details contact:
Guy Watson: Laithwaites Wine, 7100 Brockworth Road, Brockworth, Gloucester GL3 4AQ.
Guy.Watson@laithwaiteswine.com
01452 622959
Greg Roberts: Laithwaites Wine, One Waterside Drive, Arlington Business Park, Theale, Berkshire, RG7 4SW.
Gregory.Roberts@laithwaiteswine.com
0118 9030257
NB. Course dates and times are all subject to confirmation.